All About That (Data)base
Every year Library Journal reviews databases and determines the best top 10 for reference services. For 2023 they reviewed the ones from 2022 and state why each has earned their stamp of excellence. 
The Core Collection and Architecture Design & Practice Online are separated into two collections. With the Core Collection there are "113 architecture ebooks, 2,200 images and building plans, and an interactive time line and architectural world map. Architecture Design & Practice Online offers 200 ebooks on studio design, technical drawings, case studies, and more.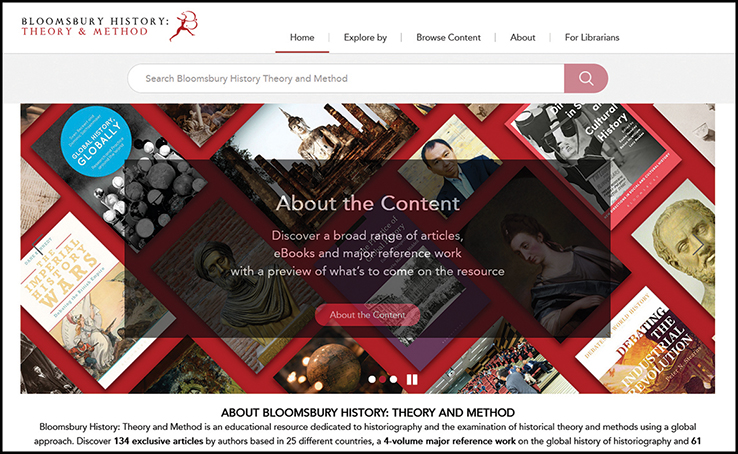 Bloomsbury History: Theory & Method. Bloomsbury.
This comprehensive resource is designed for students and researchers, focusing on history theory, method, and historiography. Made by an international team of scholars, it "includes 100-plus exclusive articles, a four-volume collection of critical readings on historiography, and more than 60 scholarly books from Bloomsbury's catalog."



It is great for users to "access thousands of classes on art, crafting, and other forms of artistic expression via a wide range of subjects, including art and design, sewing, quilting, jewelry, and more. Tutorials include beginners' courses, multipart and quick selections, and Creativebug Live classes."

For researchers of World War I, World War II, or the Cold War, it provides unique access to documents on British intelligence in the 20th century. "This recent addition to Gale's Declassified Documents Online contains manuscripts from Government Communications Headquarters, the Central Intelligence Agency, the Joint Intelligence Committee, and more."

Offering "5,400-plus ebooks, 2,200 full-text biographies, and tens of thousands of primary documents and curated videos dedicated to coverage of the culture and lived experiences of Black, Arab, Jewish, Latinx, Indigenous, and Asian Americans." It's aided by EBSCO's powerful search functionalities, which allow users to conduct precise research.

Spanning 1870-1920, AM's (formerly known as Adam Matthew) collection of primary sources focuses on one of American history's most critical and transformative eras. Explore the papers of crucial "industrialists; visuals on fashion, material culture, and architecture; plus calendars, cartoons, ephemera, personal correspondence, and more, all drawn from eight renowned archives and libraries, including the Library of Congress, the New York Historical Society, and Yale's Beinecke Rare Book & Manuscript Library."

With data from 2000 to 2009, access to original manuscripts and "typescript papers created and collected through the University of Sussex's comprehensive survey of the lived experience of the British public. With the aid of essays, videos, and an interactive timeline, searchers can explore a broad range of themes, including the Great Recession, the swine flu outbreak, environmental issues, and the terrorist attacks of September 11."

Supports research and learning through in-depth primary source materials, full-text scholarly journals and magazines, Black historical newspapers, dissertations, and more. "Hundreds of streaming videos and images accompany the texts, providing a multilayered learning experience. The user-friendly interface mines full text and bibliographic records of documents, making it possible for users to search and cross-reference easily. An authoritative product for academic researchers and students alike."

Access comprehensive statistical data with an emphasis on market research and analysis. Statista's "expert tools, including Consumer Insights, eCommerce Insights, and Company Insights, feature a wealth of data referencing thousands of brands, tens of thousands of marketplaces, and hundreds of countries across the world. Response time is fast, and charts and graphics enhance the user experience."
This archive focuses on women trailblazers in "pop culture, business, activism, and more. Materials span from 1759 to 2002 and are sourced from institutions such as the Smithsonian; the Library of Congress; the Gay, Lesbian, Bisexual, Transgender (GLBT) Historical Society; and the Schomburg Center for Research in Black Culture. The Earl Conrad/Harriet Tubman Collection and several more particularly highlight the voices of those who were enslaved or imprisoned."
Each database has something unique and special to offer its users. If your library has access, I encourage you to look into each one, and dive down a rabbit hole of research and discovery.